New York City's matching funds program has major, positive influences on New York City elections.
By holding candidates accountable to their constituents and amplifying voters' voices, the Program ensures that voters, not money, have the final say in New York City government. Read more about the impact of matching funds below. For a complete analysis of the Program's impact in keeping NYC elections clean and fair, see the CFB's 2013 Post-Election Report.
More Competition
New York City's matching funds program has been instrumental in keeping candidates accountable to their constituents. By providing more candidates the means to run competitive and viable campaigns, the program ensures fewer incumbents get a free pass from the voters.
Contested and Competitive Primary Elections
Primary elections, 2009 & 2013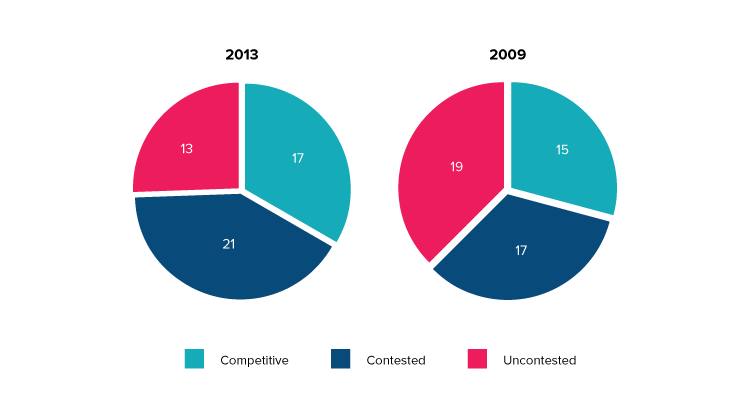 High Participation
Candidates for New York City office choose to join the Campaign Finance Program in overwhelming numbers. Candidates have long understood that small-dollar matching funds provide a reliable platform to run a viable campaign in New York City. Case studies from the 2013 elections show that public funds have a significant impact on making races more competitive. In two citywide primary races, Program participants won against wealthy self-funders, despite being significantly outspent by their opponents. Overall, more than 90 percent of candidates running in the primary election participated in the Program, while nearly 75 percent participated in the general election.
Candidate Participation in the Campaign Finance Program
Citywide Primary and General Elections, 2001 – 2013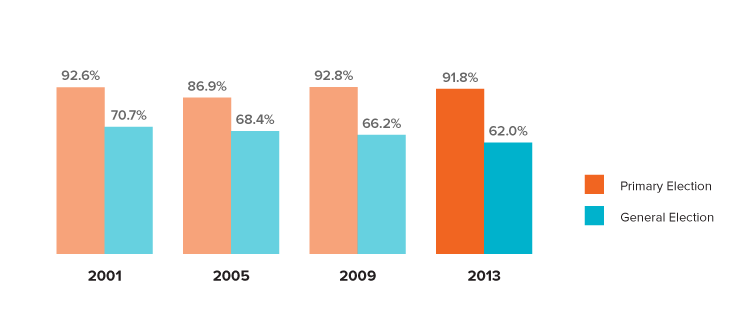 Campaign Finance Program Participants Elected to Office (out of 59)
2001 – 2013

New Yorkers, Not Special Interests
Individual contributors from New York City are, by far, the largest source of contributions to candidates in city elections. In the 2013 citywide elections, more than 90 percent of funds raised came from individual contributors, not political committees or unions. There was the largest number of contributors in New York City in any election, ever. More than 2/3 of contributions were $175 or less. NYC's focus on individual contributors creates a stark comparison with New York State elections, where nearly 70 cents of every dollar raised comes from a special interest — a corporation, LLC, political action committee, union, or party committee.
Source of Contributions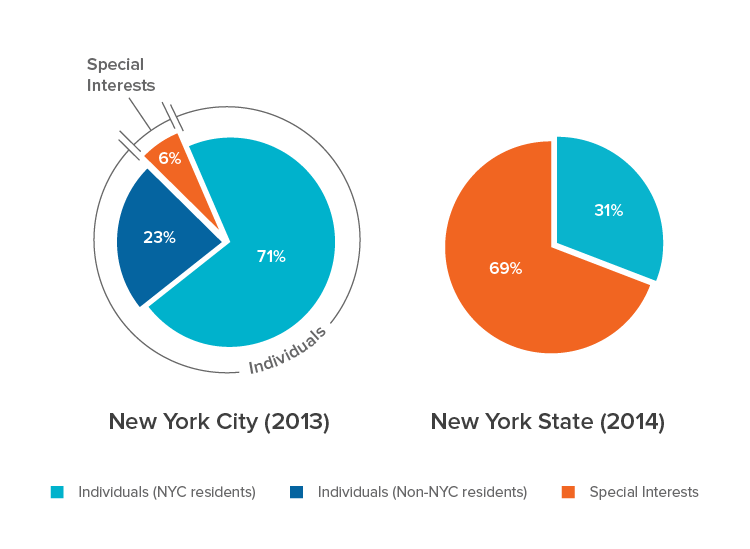 Rigorous Oversight
The public matching funds program is supported by a robust oversight and enforcement regime that helps ensure candidates qualify honestly, and manage their funds responsibly. Careful pre-election auditing of candidate disclosure protects against waste and fraud, saving taxpayers real money.
| | | | |
| --- | --- | --- | --- |
| Year | Matching Funds Requested | Public Funds Distributed | Savings |
| 2005 | $34 million | $23.8 million | $10 million |
| 2009 | $34.3 million | $27.3 million | $7 million |
| 2013 | $50.0 million | $38.2 million | $11.8 million |
Balances Outside Spending
The Program also helps candidates challenge the influence of independent spenders. While New York City saw a major influx of independent spending in the 2013 elections, the results showed that candidates supported by outside money were not always successful.
Seventeen primary elections for City Council featured outside spenders who exceeded the spending limit for participating candidates. Still, the four Council candidates with the highest amount of independent spending on their behalf (each more than two and a half times the candidate's own spending) all lost.
Three Council candidates won election despite massive independent expenditures backing another candidate; each were outspent by outside groups more than two-to-one.
Timely Disclosure
Improved technology, persistent support and outreach to candidates, and the promise of matching funds all help ensure timely and complete public disclosure of campaign finances. The number of disclosures filed by campaigns after the deadline has declined persistently over the past few election cycles.
Disclosure Statements Filed Late, 2005 – 2013

SEE ALSO...