CFB Launches '5 Borough Tour' Candidate Trainings
05/21/2019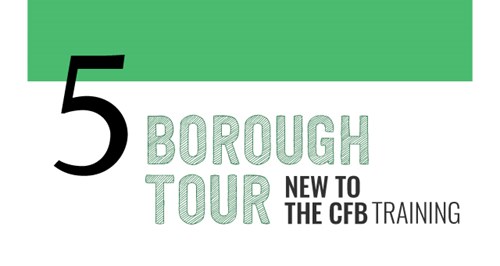 Starting this June, the New York City Campaign Finance Board (CFB) will launch its 5 Borough Tour, providing Saturday afternoon trainings in each borough for anyone interested in running for city office in 2021. Prospective candidates are encouraged to RSVP for a training in their borough while space is still available.

"The CFB's matching funds program helps more candidates run for city office, so we want to expand the pool of potential candidates by making our trainings accessible to more New Yorkers," said Amy Loprest, Executive Director of the CFB. "We hope this will further increase the diversity of candidates running for office and provide better representation for all communities in New York City's elections. We thank our friends at the libraries for providing space for this important public service."

2021 will be the largest election cycle the CFB has seen in its 30-year history. Two citywide offices, all five borough presidencies, and 35 City Council districts are held by incumbents who will be term-limited out of office and cannot run for re-election to their current office.

Given the high volume of open seats, the CFB expects upwards of 500 campaigns to register with the CFB for the 2021 election cycle. To meet the candidates where they are and ensure each campaign fulfills their legally mandated training requirement, the CFB plans to schedule over 250 trainings both in-office and off-site in 2019 and 2020 to support thousands of potential trainees.

In partnership with the New York Public Library, Queens Public Library, and Brooklyn Public Library, each off-site training will be held at a public library branch in each borough. The public libraries are providing the space as a public service to prospective candidates.

"Public libraries have a unique responsibility to do everything we can to preserve a strong democracy," said Dennis M. Walcott, President and CEO of Queens Public Library. "Each day we work to provide people with the tools and knowledge they need for full civic participation, and we are glad to support the Campaign Finance Board in enabling more people to seek elected office and build strong communities across New York City."

"Since its inception the Library has been our city's most democratic institution, and so I can think of no finer place to prepare first time candidates for elected office," said Linda Johnson, Brooklyn Public Library President & CEO. "We are proud to partner with the New York City Campaign Finance Board on this important initiative to encourage better representation in our elections."

"Engaged and active citizens are essential for a successful democracy and the best among us are needed to run for office, advocating on behalf of New Yorkers," said Anthony Marx, President of The New York Public Library. "As an institution that welcomes and respects all, The New York Public Library offers an ideal environment to help train the next generation of leaders and we are proud to partner with the Campaign Finance Board on this remarkable opportunity."

See the schedule below for the first round of dates, times, and locations of the trainings.

New to the CFB Seminar
The New to the CFB seminar is geared toward first-time candidates and campaign staff. This seminar will provide an overview of some of the expectations and demands of running for city office. The CFB recommends attending this seminar prior to the mandatory Compliance and C-SMART training.

June 08 — Queens Central Library, 89-11 Merrick Boulevard (2-4 PM)
June 22 — Eastern Parkway Library, 1044 Eastern Parkway (2-4 PM)
July 20 — Bronx Library Center, 310 East Kingsbridge Road (2-4 PM)
August 03 — Richmondtown Library, 200 Clarke Avenue (2-4 PM)
September 14 — Schomburg Center, 515 Malcolm X Boulevard (2-4 PM)

To RSVP for a training in your borough, visit nycvotes.nyccfb.info/events. We'll be adding more off-site trainings this summer, so make sure to check back there for more info.

The CFB's Candidate Guidance and Policy staff offers extensive support to campaigns throughout each campaign cycle. The CFB's candidate services liaisons provide access to training, resources, and one-on-one guidance to help each candidate navigate their disclosure requirements and compliance obligations. All candidates are eligible to participate in the city's public matching funds program.

All trainings are regularly held at the CFB offices in lower Manhattan throughout each month. See the Trainings section of the CFB's website for a running schedule of in-office trainings.