NYC Votes Releases The 2018-2019 Voter Analysis Report
04/30/2019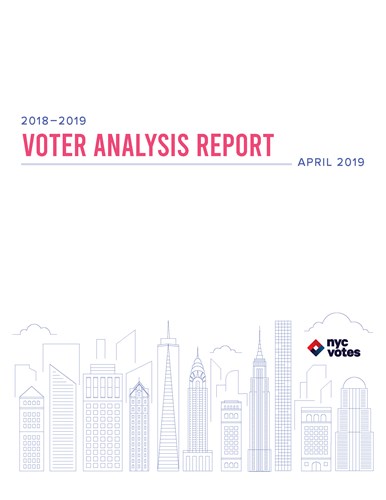 NYC Votes and the Voter Assistance Advisory Committee have published the 2018-2019 Voter Analysis Report looking at New York City's voter registration and turnout rates during the 2018 midterm election cycle.

The Voter Analysis Report fulfills the Voter Assistance Advisory Committee's mandate to publish an annual report regarding voter registration and voter participation in New York City elections. Among the key findings included in the report are: 
Turnout in the 2018 midterm elections was significantly higher than it was in previous midterms, at a rate of 39.1 percent, with only a 14.4 percent difference from turnout in the 2016 presidential elections.
 
New York typically lags behind the rest of the country in voter turnout, but 11 NYC neighborhoods actually surpassed the national turnout rate in 2018.
 
There were over 250,000 new voter registrations in 2018, and turnout among new registrants was higher than turnout among all active registered voters.
 
Voters, whether they had registered in 2016 or before, were significantly more likely to return to the polls during a local or midterm election cycle if they had participated in a presidential election.
 
Race and ethnicity, level of education, and age were the strongest demographic predictors of neighborhood turnout in the 2018 midterm elections.
As noted above, turnout in the 2018 midterm was much higher than in previous midterm elections, as illustrated by this chart — one of many included in the report: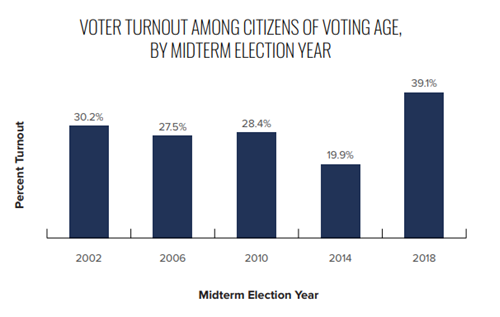 In addition to written analysis, the Voter Analysis Report includes interactive maps to help readers visualize voter turnout throughout New York City in the 2018 primary and general elections, as well as the additional factors that impacted turnout.



The report also includes legislative recommendations for improving access to the ballot box. Voting will soon be much easier in New York due to a series of voting reforms that passed earlier this year, including:
Establishing an early voting period
Consolidating primary election dates
Authorizing electronic poll books
Allowing 16- and 17-year-olds to preregister to vote
Automatic updates to voters' registration status upon moving within the state
Empowering the State Board of Elections to develop online voter registration
These voting reforms, while hugely important in removing long-standing barriers to the ballot box, are just the beginning. Other reforms are still needed in order for New York to step forward as a leader in voting rights. To this end, the report recommends the following reforms:
Restoring voting rights to parolees
Automatic voter registration
Changing the party enrollment deadline
Voter Friendly Ballot Act
Allowing poll workers to serve split shifts
Expanding translation services
Instant runoff voting
No-excuse absentee voting (in progress)
Same-day registration (in progress)
Download and read the full report for further details around demographics and neighborhood voting data. The Voter Assistance Advisory Committee will hold a meeting in June to discuss the report's findings and provide further context.

NYC Votes is the nonpartisan voter engagement initiative of the New York City Campaign Finance Board (CFB) and its Voter Assistance Advisory Committee (VAAC). In addition to promoting voter registration, participation, and civic engagement in New York City through its many programs and partnerships, NYC Votes sponsors the city's official Debate Program and produces the citywide Voter Guide.