Satnam Singh Parhar
(Democratic)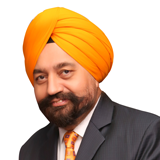 Running as Candidate for
23rd City Council District
Party
Democratic
Current Occupation
Builder / Developer / Construction Management
Previous Occupation(s)
Garments Importer, Wholesaler, and Retailer
Education
Bachelors in Commerce, Punjab University (Chandigarh)
Organizational Affiliations
President of India Association of Long Island, 2014 and 2015; Founder, Sant Baba Nidhan Singh Ji Cultural Society;
Prior Public Experience
N/A
Website & Social Media
What is the most important issue in Council District 23 you would address if elected?
Making the public education system in the City of New York work for all students is a goal that has for years had many bureaucratic, managerial, and fiscal roadblocks. I aim to make New York City schools a beacon for others to follow, and consider this my number-one priority. The process begins with an understanding that the future of a 21st century education requires a 21st-century attitude toward readying students for 21st-century careers. Working with teachers' unions rather than antagonizing them, and collaborating strongly with institutions of research are the first among many steps to reform public education—no part of which I take lightly. I believe that once education is cemented as a robust feature of public life, most other issues fall into place naturally.
What other important issues would you address if elected?
The great diversity of our district warrants diverse courses of action. Affordable housing, job creation, improved transportation, and public safety stand out as areas of my concern. Uniting the residents of District 23 around these issues will be my guiding principle if elected.
What makes you the best candidate for this office?
For years, the residents of District 23 have spoken but have not been heard. I feel the pain of the public: I have been the eyes and ears of the community, working with them intimately in ways others could not. My background as a community leader has not been tainted with the the aspirations of a career politician, but has informed me of the deeply felt concerns of my fellow citizens. I am most well-positioned to lead because no one knows the people of the District better than I do.
Other Candidates for CD 23